The annual St. John the Evangelist Festival starts up again this Thursday, July 23rd and will last throughout the weekend until Sunday, July 26th. Expect to be surrounded in a great atmosphere of "community and fellowship". If you have been driving around St. John lately, you may have already seen that they have the rides getting ready to be fully setup as well as tents laid out and ready to be filled.
2015 St. John the Evangelist Festival Schedule
Thursday 5pm-11pm
Friday: 5pm-Midnight
Saturday: 3pm-Midnight
Sunday: 2pm-9pm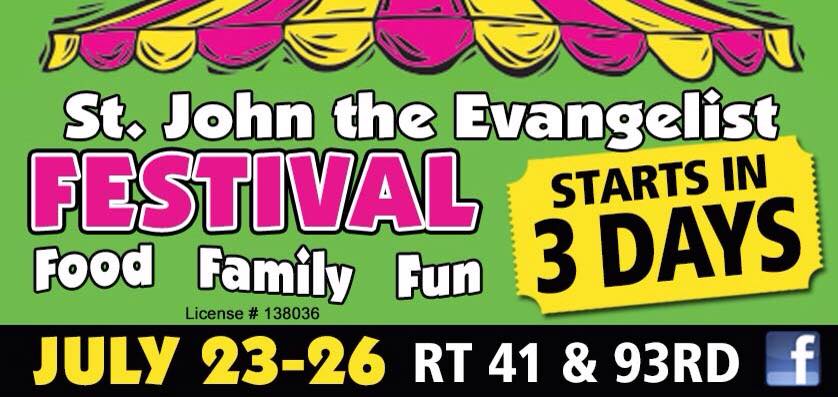 Activities
This year there are quite a few different activities going on at the Festival for people of all ages. You can bring the kids to the games tent to let them burn some energy while you go play some Bingo or maybe take part in the Texas Hold'em Tournament which has been a big hit each year. Truly, the St. John the Evangelist Festival has become a family event. Don't worry about having to find a babysitter!
Kid Games Tent
Thursday: 5pm-10pm
Friday: 5:pm-10pm
Saturday: 3pm-10pm
Sunday: 2pm-8pm
*special events- Sping Art Friday from 6pm-8pm
Bingo
Nightly in Air Conditioned Gym 6:30pm-10pm
Texas Hold'em Tournament
In Air Conditioned Gym Thursday at 7pm and Saturday at 4pm
Food
Elephant Ears
Delicious Homemade Pie Slices
Ticket Promotions
Festival Carnival Deals are sponsored by Strack and Van Til St. John, IN location. Get a 4-Day unlimited Ride Wristband for only $45 from Strack & Van Til or $60 at the Festival. Friday Night Wristband is only $15 from Strack & Van Til or $20 at the Festival. But, for the deal, you must get your wristbands before July 23rd, so make sure you do not forget! Save some money.
More information can be found on StJohnParish.org