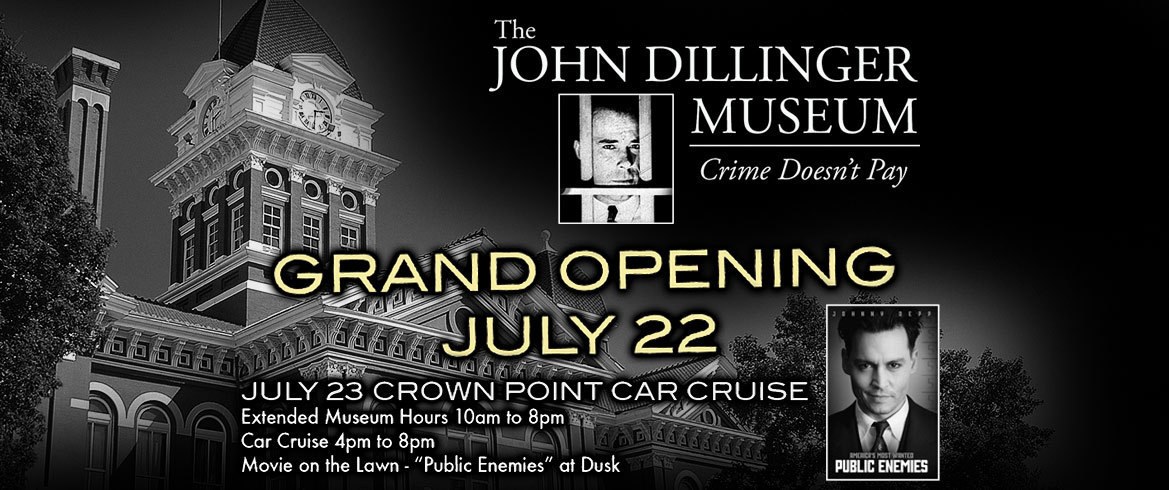 The new John Dillinger Museum is NOW OPEN to the public! Located inside the Old Lake County Courthouse in downtown Crown Point, IN, you can expect to see some great historical items. The Grand Opening event was today from 10am-5pm. Tomorrow, July 23rd, there will be a Crown Point Car cruise from 4pm to 8pm as well as a showing of "Public Enemies" on the courthouse lawn at dusk. Hours will be extended from 10am to 8pm in view of the car cruise.
About John Dillinger Museum
Originally located at the Indiana Welcome Center in Hammond, Indiana, the museum moved to downtown Crown Point, IN right on the square at the Old Lake County Courthouse and opened on July 22nd to the public.
The museum has taken visitors on an interactive, historical adventure through the life and times of John Dillinger and other gangsters of the 1930s depression era. Through the stories of the infamous gangsters, visitors have also learned of the rise of the FBI and advancements made in crime fighting technology.

The relocated museum will continue to be an educational and historic experience and use John Dillinger and other era criminals as examples of what happens to people who engage in criminal activity.
Now, the museum actually has the real "death trousers" which were the pants John Dillenger was wearing when he was shot outside of the Biograph Theater in Chicago. There is also the infamous wooden gun, Dillinger's lucky rabbit's foot, and a huge selection of other historical items.
If you live in or around Northwest Indiana, visiting the John Dillinger Museum is definitely something to add to your list of things to see.
Why is the John Dillinger Museum at Crown Point Courthouse?
Crown Point has shown it has a very strong historical connection with John Dillinger. He was  held in "escape proof" Crown Point jail during his time waiting for trial after killing Sgt. William O'Malley during his robbery of First National Bank of East Chicago. He held captors at gunpoint and eventually escaped. The gun turned out to be a wooden gun, which is now at the museum held in a safe deposit box.
The Courthouse, aka "Grand Old Lady", has a great architectural style which seemed to be fitting for the museums location. Attaching the John Dillinger history to the town in which a great deal of his story was developed seems to have been a great idea.
Hours
Monday through Saturday 10:00 a.m. to 5:00 p.m.
Closed Sunday
Last admission at 4:00 p.m.
Admission
$4 for adults
$3 for seniors (50+)
$2 for children ages 6 through 12
Free for children under 6 years old
Groups – $3 for groups of eight or more
LOCATION
Old Lake County Courthouse
1 Courthouse Square
Crown Point, IN 46307
For more information visit the official SouthShoreCVA.com Info Page