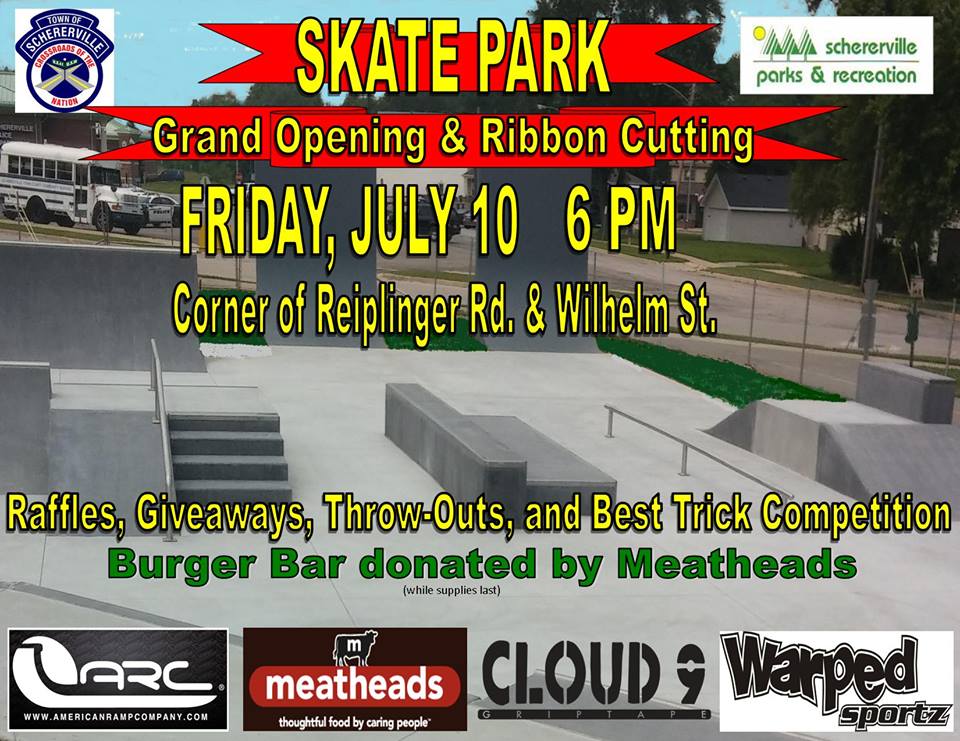 Schererville, Indiana is officially getting their Schererville Skate Park which has been in the works for over a year now. The grand opening and ribbon cutting will be starting tonight, Friday at 6pm  right at the skate park which is at the corner of Reiplinger Rd. and Wilhelm St. Everyone is invited to join for some awesome raffles, giveaways, burgers from Meatheads, throw-outs, and even some friendly "best trick" skate competitions. Sponsors of the event include Arc (American Ramp Company), Meatheads, Cloud 9 Griptape, and Warped Sportz.
Having a skate park in a community has shown to bring in some great highlights and also a perfect place for kids and even adults to come to relax, throw down some tricks, meet with friends, and much more. The new Schererville Skate Park will be located right  next to the Schererville Police Department and also right off of the bike path which is currently still in the works of being expanded. The Schererville Bike Path goes all the way from the Schererville Skate Park down to Rohrman Park, just a few miles away. This allows a safe and easy means of accessing the park.
Sponsors
Many local skaters and businesses have shown a lot of excitement with this new development. Kyle Ayling, founder of one of Northwest Indiana's most recognized skate brands, Cloud 9 Griptape, said "I am personally excited about Schererville and Northwest Indiana adding another skate park to the lineup because this is one of the best parks that NWI has to offer at this time. The town of Schererville really pulled out all the numbers on this park."
The town has been working closely with the community in the creation of this park. In a lot of skate park stories from other communities, we have seen that many times they throw something together and call it a day, leaving the community unhappy with the product. The town of Schererville went above and beyond to work with everyone to make this the perfect spot for everyone. Kyle Ayling pointed out that "in the beginning they had an original plan and once presented to the local skaters, a lot of changes where made. At that point they went back to the drawing board and implemented all the changes! . . . They made it happen. There are a lot of people to be thanking for making this come to life and it is with great honor to say that Schererville, Indiana now has a premiere park for the locals. I am hoping this park can get some bigger named skaters here when companies are touring."
Schererville Skate Park Location
The park is located right next to the Schererville Police Department at the corner of Reiplinger Road and Wilhelm Street. This is great because it will keep people focused on coming to the skate park to be with friends, skate around, and have a peaceful environment. For directions, you can view the map at the top of this page, or go to THIS page on Google
Cloud 9 Griptape
"When the Dyer skate park opened it was amazing! It was minutes away from my house so of course that made it the every day spot for myself and many others. Growing up in NWI as a skateboarder was not really the most ideal due to the lack of skate parks. It is great to see how skaters are responding to the new park and I could only imagine how excited they are to FINALLY get to skate it. I think the Schererville park will be a timeless skate park for years to come and I know it will set the standard for other towns to follow (or renovate their current park.)

When Schererville made the announcement of the town meeting for the skate park, I knew I wanted to be a part of it. Every skater gets excited when they hear their town will be getting a skate park and what better way to take part than sharing your thoughts and ideas with it. From that point forward, I really just communicated with John, Amanda, and Mark as much as possible to make sure I was able to answer any questions from a skateboarders standpoint. This being the first time and all of course you can imagine they wanted to do it right! The reason I really wanted to be apart of this is simply a lot of my customers from myCloud 9 Family is based in the town of Schererville. So the day of the event (Friday, July 10, 2015) we are going to be raffling off a lot of Cloud 9 Griptape and apparel. There is also going to be a best trick contest with a lot of great prizes on the line. It is going to showcase a lot of local talent and some of the newest items Cloud 9 has to offer as well. There is nothing like working with the wonderful town of Schererville to see their vision come to life fully. Remember nothing great is ever achieved alone smile emoticon" Kyle Ayling
Schererville Skate Park Grand Opening Events
Come out tonight, Friday July 10th at 6pm to celebrate the Grand Opening and Ribbon Cutting of the Schererville Skate Park. Bring your family, friends, and kids even if they are new to skateboarding. There will be giveaways, food from Meatheads (while supplies last!), and much more. Cloud 9 Griptape will also be holding skate contests throughout the night. Make sure take photos and share them with us and we will publish them to our Facebook and website at future times!
New to skateboarding?
Kyle Ayling will be holding a free "Skateboarding Basics for All Ages" class in Dyer on Saturday, July 11th. Details can be found HERE