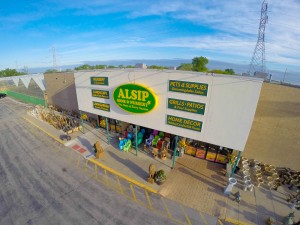 Spring is finally here in the Northwest Indiana Region! No spring is complete without a trip (or two) to Alsip Home & Nursery in Saint John on Route 41.  A visit to Alsip's Garden Center will quickly help you understand why they are perennially voted Best Garden/Nursery store in Northwest Indiana.
Teeming with a comprehensive selection of annuals, perennials, vegetables and herbs as well as the area's largest selection of trees and shrubs all at reasonable prices.  "Our quality and customer service far surpasses the competition." Quips Alsip Nursery CEO Richard Christakes.  "You don't order a filet mignon at the drive through window and our products are top shelf all around. You get what you pay for and we proudly price match on anything as long as it's proven to be apples to apples. A beautifully landscaped home can increase your property value and we have been improving curb appeal and property values in the region for 2 and a half decades and nearly 50 years in Chicagoland."
Alsip's landscape supply division offers everything a contractor needs to install a beautiful landscape for the residential client, all the way up to large commercial properties.
"Most of the landscape contractors purchase their materials from us because we have the quality, depth of inventory, buying power to offer good prices and most importantly the best service around.  Time is money and our team helps the landscape contractors from NWI get in and out of here quickly with the best grade materials on the market.  We pride ourselves in knowing that the professionals come to us as their go to place for materials and that is another reason why Northwest Indiana region residents love to come here for their landscape and gardening needs." According to Bryon Angerman, Nursery Manager and 25 year veteran in the garden industry.
Alsip's Lawn & Garden department, managed by Sharisa Eatinger, 17 year Alsip Nursery veteran has everything that you could find in the box store and more.
"We carry the basic name brands but offer premiumproduct lines as well that you can't find at the box stores or other local independents." Says Sharisa.  "Our staff is well trained and dedicated and we have a huge, loyal customer following that we do not take for granted.  The team here loves serving the region and we often have satisfied customers bringing in pictures of their lawn after we have helped them out.  We even helped the National Winner for Best Lawn in the United States who purchased Jonathan Green products from us."
And, don't even get us started on Alsip Home & Nursery's Pet Center.  There is nothing else like it anywhere around. Alsip Home & Nursery, in Saint John on Route 41 is truly a gem that adds to the uniqueness of the Northwest Indiana Region.
Visit their website http://www.alsipnursery.com/ for more information today!